Cooperation Network
TopSharing
Is a work-organizational model for leadership in collaboration: Jobsharing in top positions. Julia Kuark successfully developed this model based on partnership management principles and has implemented it in numerous organizations.
www.topsharing.ch
Weisbrod
Fabrics for Apparel, home textiles, ties and shawls Sabine Weisbrod-Steiner and Oliver Weisbrod are CEOs in
TopSharing
.
www.weisbrod.ch
Go-for-Jobsharing
Information platform for enterprises, HR specialists and employees.
www.go-for-jobsharing.ch
Tandemploy
When two people share a job, everyone wins! The tandem platform for jobsharing in Germany.
www.tandemploy.com
/ Blog at
zweiteilen.de
Parttime and Jobsharing Career Opportunities
Parttime and jobsharing positions in Switzerland and a jobsharing partner exchange.
www.teilzeitkarriere.com
State Secretariat for Economic Affairs SECO
Careers and Families / Women in Leadership: Information platform and various publications.
SECO promotes examples of good practices and supports parttime and jobsharing solutions.
www.seco.admin.ch
Federal Office for Gender Equality FOGE
Supports Balancing Family and Career Responsibilities
The Federal Office for Gender Equality supported the TopSharing project from 1999-2005.
www.ebg.admin.ch
Lucerne University of Applied Sciences and Art
Anchored in the heart of Switzerland – internationally oriented
The competence center for higher education in Business Management and IT. Julia Kuark teaches Qualitative Research Methodology in the Program for International Management, Gender/Diversity Management in Business and Coaching in Business Psychology.
www.hslu.ch/wirtschaft
Swiss Federal Institute of Technology ETH / Educational Development and Technology LET
promotes excellence in teaching at the ETH
Julia Kuark leads workshops on teaching in technical sciences for research assistants and graduate students
www.let.ethz.ch
Engineers Shape our Future IngCH
Supports the understanding and appreciation of technology, especially among youths
Julia Kuark gives workshops for high school students during project weeks on technology.
www.ingch.ch

Memberships
SVIN Swiss Association for Women Engineers
Represents the needs and goals of Women Engineers and motivates young women to choose engineering careers
Julia Kuark was nominated for the SVIN Award 2012 for the most influential engineer. She was president and a member of the board from 1991-1998.
www.svin.ch
BPW – Business and Professional Women
Regional, federal and international Network for career women
Julia Kuark was president and a member of the board of BPW Lenzburg from 2006-2012.
www.bpw-lenzburg.ch
International Coaching Federation ICF Global
Membership organization for trained professional coaches
www.coachingfederation.org
Competence Center UND
Contact and advice for balancing family and career work
UND supported the
TopSharing
Project from 2004-2005.
www.fachstelle-und.ch
DVD HSLU Association for Faculty and Researchers at the HSLU
Represents faculty and employees of the Lucerne University of Applied Sciences.
www.hslu.ch
Swiss Alpine-Club SAC Section Baldern
The joy of mountaineering
The National Swiss Alpine Club celerated its 150 year anniversary in 2013.
Julia Kuark has been a member for over 25 years.
www.sac-baldern.ch
Pro Velo Lenzburg Area
Promotes cycling as a full-fledged means of transportation.
www.provelo-lenzburg.ch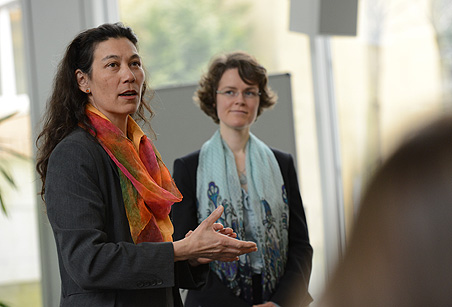 What is TopSharing?
www.topsharing.ch

KMU-Handbuch Beruf/Familie
PDF Download (in German)

Frauen ins Führungspositionen
PDF Erhebung SECO 2011 (in German)

Teilzeitarbeit und Jobsharing in der Schweiz
PDF Erhebung 2014 (in German)

Jobsharing: 2 für 1
Zwei Kompetenzen zum Preis von einer. (in German)


Find a Jobsharing Partner

Quicklinks